Modification Plate Services (ModPlates)

Have you modified your vehicle? If so, you may need to obtain what is known as a Modification Plate.
Many minor or basic modifications can be carried out without obtaining written approval.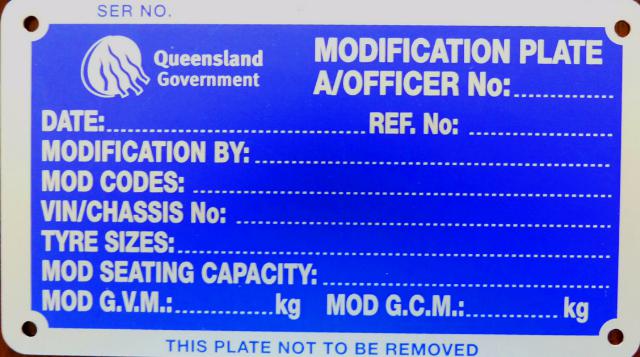 Complex modifications such as engine upgrades, gearbox and rear axle changes, vehicle body modifications and steering and brake replacements are significant modifications to a vehicle and can seriously affect the safety of a vehicle if not performed properly.
Complex modifications to light vehicles must be certified by approved persons, providing the modifications have been performed in accordance with an approved code of practice.
The approved codes of practice are based on accepted vehicle engineering practices and the requirements of the Australian Design Rules for Motor Vehicle Safety. It is intended to supplement the recommendations of the original vehicle manufacturer in relation to vehicle modification techniques or standards. It is important to note that the Australian Design Rules and the original manufacturer's modification guidelines take precedence over the codes of practice.
Modifications We Can Approve
Modifications We Can Approve are the following highlighted Light Vehicle Modifications;
L A 1 – ENGINE SUBSTITUTION
L A 2 – PERFORMANCE ENGINE INSTALLATION
L A 3 – TURBOCHARGER / SUPERCHARGER INSTALLATION
L A 4 – ENGINE MODIFICATIONS
L B 1 – TRANSMISSION SUBSTITUTION
L B 2 – REAR AXLE SUBSTITUTION
L G 2 – BRAKE SYSTEM CONVERSION – MODIFICATION
L H 2 – Roof Conversion
L H 4 – Modified Wheelbase Conversion
L H 6 – VEHICLE CONSTRUCTION
L H 7 – Body Chassis Variants Conversion
L H 11 – Campervan & Motorhome Conversion
L K 1 – SEATING & SEAT BELT INSTALLATION
L K 6 – CHILD RESTRAINT ANCHORAGE INSTALLATION
L K 8 – ROLL BAR & ROLL CAGE INSTALLATION
L K 10 – Aftermarket Roll Cage & Roll Over Protection Systems
L M 1 – FUEL TANK ALTERATION
L S 10 – HIGH LIFT 50MM TO 125MM (Modification)
L S 4 – Front suspension and Steering (modification)
L S 6 –  Rear suspension and Steering (modification)
A lot of people are lifting their vehicles and don't know the legalities.
Here's a simple way to work it out
#1 – 2" susp lift allowed
#2 – 1" tyre diameter increase allowed
#3 – 2" body lift allowed
If you do #1 and #2 together (or alone) that is acceptable and no mod plate is required.
If you do #3 alone that is acceptable and no mod plate is required.
If you combine #1 & #2 & #3 – then an LS9/10 modifcation code is required. This requires a lane change test, design drawings and so on. This will get expensive and your car will possibly fail the lane change test.
You cannot exceed the lifts listed above in #1, #2 and #3.  No engineers in Queensland can approve a suspension lift over 2″ (50mm) spring lift.